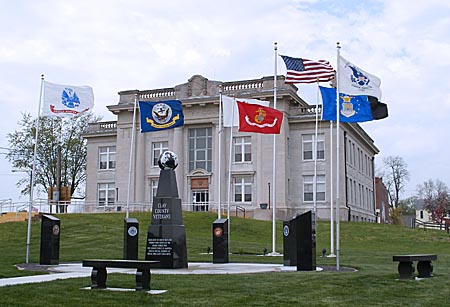 What would you say if we said you could enjoy
the following attractions in one area?
Enjoy stock car racing on weekends or take a ride on a steam engine train in passenger cars through the beautiful park complete with camping and fishing sites. If these events have piqued your interest, then we invite you to Clay County.
As many counties in Southeastern Illinois, Clay County offers many opportunities to discover its charm and warmth.
Various fairs and festivals in villages and towns highlight the diversity and heritage of Clay County. In Louisville, the former county jail has the distinction of hosting the Clay County Museum with the building listed on the National Register of Historic places. Restoration efforts are also underway in the Village of Sailor Springs, a resort area in the early 1900's featuring natural springs.
For more historical interest, be sure to stop by the B&O Depot in Flora. Built at the height of the railroad industry in Illinois, the three story brick building is in the process of being restored. The restoration is a testament to the hard work and dedication of Clay County citizens.
The Flora Appleknocker Celebration each September provides an arts and science fair for school children of all ages.
Charley Brown Park, located west of Flora, hosts not only the County Fair but several sanctioned coon hunts throughout the year. Clay City, Xenia, Louisville and Sailor Springs all host unique festivals complete with entertainment and homemade goodies.
The Charley Brown Park Christmas Light Display continues to generate excitement. Starting on November 28 and every evening through December 28, visitors can drive through Charley Brown Park to view the display. Every weekend features various entertainment and events in conjunction with the light display.
In Clay County, the welcome sign is on. We hope you'll visit.
Louisville Weather Forecast, IL
Clay County Greenways & Trails Survey