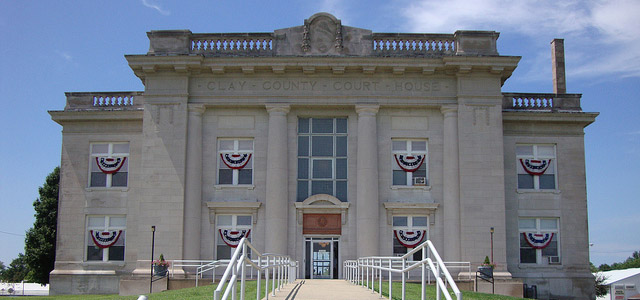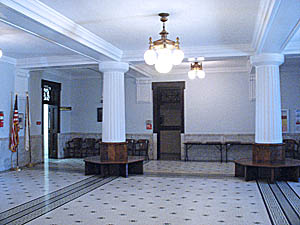 Clay County was formed in 1824 out of portions of Wayne, Crawford, and Fayette counties. Its name is in honor of Henry Clay – famous American statesman, member of the United States Senate from Kentucky, and United States Secretary of State in the 19th Century. Clay was a candidate for President in the year the county was named. John Quincy Adams won however, and was elected President on February 9, 1825.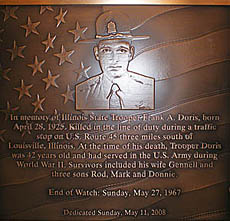 In memory of Illinois State Trooper Frank A. Doris, born April 28, 1925. Killed in the line of duty during a traffic stop on U.S. Route 45 three miles south of Louisville, Illinois. At the time of his death, Trooper Doris was 42 years old and had served in the U.S. Army during World War II. Survivors included his wife Gennell and three sons Rod, Mark and Donnie.End of Watch: Sunday, May 27, 1967Dedicated Sunday, May 11, 2008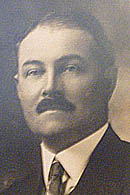 Judge Thomas S. Williams (1872-1940) attended Louisville High School, Louisville, Illinois, and Austin College, Effingham, Illiniois. Williams studied law and was admitted to the bar in 1897, at which time he began his practice in Louisville. He served as Louisville city attorney from 1897 to 1899, served as a member of the Illinois House of Representatives from 1899 to 1901, served as mayor of Louisville from 1907 to 1909, and served as prosecuting attorney of Clay County from 1908 to 1915.Williams was elected to the Sixty-fourth and the seven succeeding United States Congresses. He served as chairman of the Committee on Expenditures in the Department of Commerce (Sixty-sixth Congress). He served as in Congress from March 4, 1915, until November 11, 1929, when he resigned following his appointment by President Herbert Hoover as judge for the Court of Claims of the United States. He served as judge until his death.